Great architecture from Indonesia: Andra Matin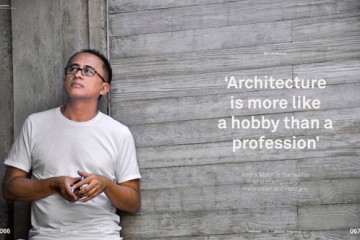 Article from Moving Cities
Andra Matin (Bandung, 1962) is a well-kept secret in the architecture world. A major force within contemporary Indonesian architecture, the soft-spoken man is recognized as the helmsman of a generation of independent architects, yet hardly anyone outside his native country knows his name. Locally celebrated but internationally undiscovered, Matin was one of the first Indonesian architects to establish an independent practice after the fall of Suharto in 1998. Before then only a few, mostly very large, architecture offices existed in the country, often employing hundreds of architects each.
The establishment of Matin's practice signalled the start of a new and more careful approach to architecture. To date, Andra Matin has designed and built over a hundred projects throughout Indonesia. Like most tropical architecture, his buildings are not always easy to grasp on two-dimensional images, but experiencing them in real life brings the word 'hedonistic' to mind.
In recent years I've experienced Matin's work several times in various stages of development: from ground-breaking through the different phases of construction to the final result: complete and inhabited. Each part of the process has its own quality. What impresses me about his buildings are their spatiality and flow, as well as the balance he achieves between light and shadow, water and materiality. Today's agenda includes a tour of Tanah Teduh. Wondering whether he sees his work as a guide to Indonesian architecture of the future, I begin by asking him to explain his design philosophy. 'I have no idea,' he says, laughing, and I'm puzzled by his reply. Is my question too vague? Too personal? Or simply irrelevant…
Andra Matin's portfolio is vast and diverse. He designs houses, museums, galleries, restaurants, public parks, mosques and artist studios. Together, we've visited projects in Bali, Yogyakarta, Bogor and Jakarta. Matin made the master plan for Tanah Teduh (Land of Calm), a 20,000-m2 gated community in Jakarta comprising 20 large houses. The project is an experiment not only in architectural design but also in planning and in the use of materials. Matin designed 12 houses and invited eight Indonesian architects to contribute plans for the rest.
I ask Matin how he reacted when approached for the Tanah Teduh commission. 'I thought this was a wonderful piece of land – it slopes, features many good trees and has a small lake. I suggested preserving these natural elements as much as possible. The developer asked whether I preferred doing all the work myself or working with other architects. I like collaborating, because it leads to a result with varying characteristics.'
As we walk, I raise the question of his design philosophy again. Clearly more comfortable in this setting – a community he conceived – he says he's 'more interested in spatial quality than in shape or form. I like to explore space – an element you cannot see in pictures but can feel only in reality. I want to find the right expression between inside and outside. As a consequence of trying to balance the two, each building becomes different. And then you have the climate, another constraint that influences architecture in Indonesia.'
Matin talks about the guidelines and restrictions in his brief for the architects involved in the project. 'As these are houses intended for expats,' he says, 'we needed to install air conditioners, of course. But because only one part of each house has air conditioning, the designs required good ventilation. We also asked the architects to use porous walls, grey breeze blocks and nontoxic paint.' Certain elements, such as perforated screens, were purpose-designed for Tanah Teduh. Breeze blocks, tiles, terrazzo, rosewood and teak were sourced from Indonesia.
Examining the interior of one house, I feel an occasional breeze and notice light entering, shifting, casting shadows. We move from roof to courtyard to a meticulously designed bathroom, one of Matin's trademarks and a space that couldn't be more hedonistic. Clearly my modest companion has mastered the craft of using climate constraints to rethink modern tropical architecture.
His office, simply named Andramatin, is in a Jakarta suburb. The building faces a small public park opposite a plot of land that has been a construction site for years. Here Matin has erected a house for himself. The first time I saw it, in 2008, it was nothing but a concrete skeleton. The architect designed the house with neither a sketch nor a plan. With the house in his mind, he gave the builders directions, step by step. The process was very slow, but each detail is perfect and the overall result astonishing. The skeleton is still visible, but he's created a form that seems to float in midair.
In 2011 Rem Koolhaas visited Matin's office and future home. 'I didn't understand why he wanted to see my house. The day before he arrived, he saw another project of mine, the Winfred House, where he took many pictures. He said that when I travelled to Berlin, he would make arrangements for me to visit the Dutch Embassy – and he did. When somebody like Rem Koolhaas appreciates my house, I am a happy man.'
In Yogyakarta on a previous visit, I had met Matin on the construction site of a 550-m2 house and studio for Indonesian sculptor and painter Agus Suwage. 'When I first thought about this house, I imagined it like a finger,' he told me, 'the finger as the artist's tool. But as you see, the final result does not look like a finger at all.' A porous black wall marks one side of the building. A shifted and elevated volume on the street side gives the impression of an introverted architecture. But inside, the transition between spaces generates an interesting flow of light and shadow. Inspiration for the design came from his childhood and from a deep-seated obsession with the architectural culture of Japan. 'When I was a little kid, my friend's grandmother lived in Yogyakarta. When I slept in her house, light slipping through the façades of woven bamboo intrigued me. I also like those Japanese houses that are a bit dark during the daytime. The rooms are not too bright, and natural light is not too direct.'
Besides setting up his own practice in the late 1990s, Matin also established Arsitek Muda Indonesia (Young Indonesian Architects), a collective whose members discuss the future of architecture in their country and work to develop a new Indonesian design language. In the meantime, it's become the quest of a younger generation of architects, who often go to Matin for advice and help. When I ask about his mentor-like position and about the direction these youngsters should be taking, he refers to Japan, a country he visits at least twice a year. 'When I have the chance, in seminars or in talks with young architects, I stress my admiration for Japanese architects. Why? Because the Japanese architect is not afraid to cultivate a distinctive character. An example is Kazuyo Sejima, who worked for Toyo Ito before founding Kazuyo Sejima and Associates in 1987 and Sanaa in 1995. She demonstrates her unique character and takes pride in what she does. The same can be said of Junya Ishigami, who worked for Sanaa until 2004 and then established Junya Ishigami and Associates. If each of us develops a distinctive character, we can enrich Indonesian architecture as a whole. There is no pride in copying or duplicating the methods of other architects. Young architects who are contemplating the evolution of Indonesian architecture should keep that in mind.'
Earlier Matin had shown me around two projects in Bogor: an orphanage and a villa for his cousin. The orphanage is a series of 15 simple timber-framed boxes made from grey breeze blocks. The design is based on the need for cross ventilation and shade. A simple trick with the blocks (alternating their position, row by row) satisfies the first requirement, while producing an optical effect. The 200-m2 villa has a compact design, and here we did see a programme based on a finger-like arrangement. Matin had commented on the prominent use of breeze blocks: 'I like to confine myself to one main material for each project. For both the villa and the orphanage, I used these blocks. A single material sharpens my focus and allows me – through limitation – to explore the architectural design.'
As mentioned earlier, this highly productive man has received little attention abroad, despite making projects worthy of international recognition, if only for their contribution to a new tropical architecture. Matin himself, however, cares little about fame and fortune. Regardless of being in high demand, he expresses a laid-back attitude towards architecture, which he considers an entertaining pastime. Why did he become an architect in the first place? 'After high school, I had two career options based on aptitude tests: doctor or architect. I'm afraid of blood, so I chose brick. I thought that being an architect would be less like a profession than a hobby, something I could enjoy – probably explains why I work from early morning until late at night, without pressure.'
We discuss projects in the pipeline for awhile, and then I ask where he wants to be ten years from now. 'I will be an architect until I die. If you believe in reincarnation, I fear I am going to be an architect again. As a punishment.' His laughter echoes through the Land of Calm.
– – –
About Andra Matin (see also list of selected projects on archnet.org)
Andra Matin was born in Bandung in 1962, graduated from architecture of Parahyangan University Bandung in 1981. After working as an architect from 1990-1998 in Grahacipta Hadiprana, he founded Andra Matin Architects in the same year. He was awarded with five IAI (Indonesian Institute of Architects) Awards in 1999, 2002, 2008, 2009, 2010, 2011 and in 2012 was part of an architecture exhibition at GA Gallery, Tokyo. In 2012, a solo show about his work, entitled "Andra Matin: Sebuah Sekuel" was on view at Dia.Lo.Gue Art Space, Jakarta.